thanks to all the Facebook groups and Matty Collector.com for all the images from SDCC.
(Hands on Demo of Castle Grayskull with box art behind it)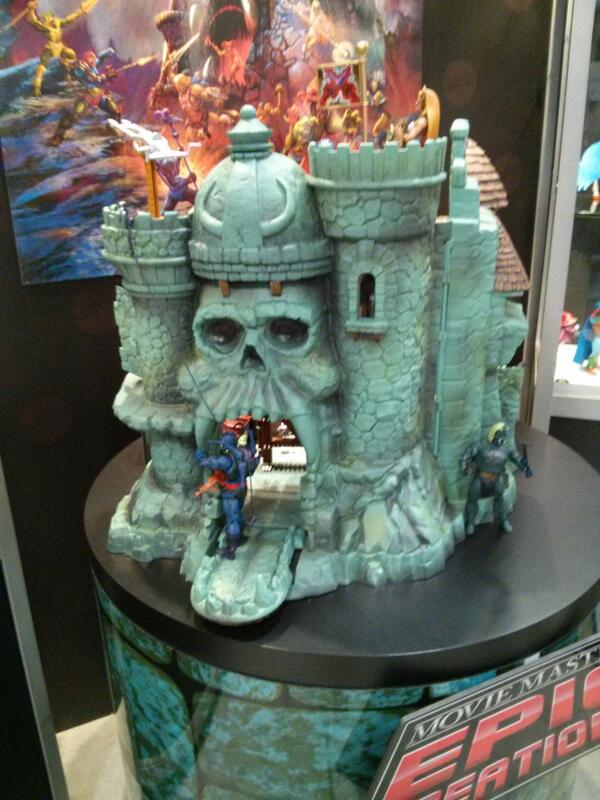 The Final Weapons Pak
Masters of the Universe® Classics Weapons Pak: End of Wars™
The final MOTUC weapons pak is here, and it's overflowing with fan-demanded items including:
Gold weapon treasure, including shield, small axe, axe staff, and club for Granamyr™
Arm attachments in Trap Jaw® black for Hurricane Hordak™
Sword, mace and shield in traditional sword gray for Sir Laser-Lot™
POP sword in blue for Netossa™
Mirror blaster for Strobo
Horde armor for Rattlor™
Arm attachments in Roboto® gray for Trap Jaw®
Sword, shield and axe in green for He-Man®
Kowl™ in classic toy colors
Masters of the Universe® Classics Sky-High with Jet Sled™
coming this fall, for the first time we'll have a figure with a mini-vehicle! Daring test pilot Sky-High arrives with the long-requested Jet Sled™, the front half of the vintage Battle Ram vehicle featured heavily in the Filmation series. Sky-High is the heroic fighter pilot best known (okay, only known) from the background of a vintage '80s poster where he can be seen piloting the Wind Raider™!
Masters of the Universe® Classics Geldor™
This Fan's Choice winner is coming to your collection as the November monthly figure! Geldor™, the villain from the classic mini-comic "The Secret Liquid of Life," crushed all other challengers and took the top spot! This Geldor™ figure will include removable red armor, oversized battle axe and secret water vile.
and one last "new reveal" was Nepthu for the Filmation sub line
So what do you guys all think? leave a comment or tweet me @AltMindz