here is my top boss battles from the square enix developer series.
10 Emerald / Ruby Weapon (FFVII)
Sure, those were the hardest optional boss fights I had ever done as a kid. Quite possibly the only really good hard hidden boss fights I could remember from back then too. But they definitely deserve a mention. I hate to say it, because this game was so amazing, but if you played, and beat FFVII, as many times as I did, with as many different combinations of sneaky tactics (7777), and (4-x Cut) (Phoenix – Final Attack) then you know you just simply had too many options to be "overly" amazing in those fights. I would love to see a remake of FFVII (only with better graphics, keep everything else the same, and add a few more challenging fights) They might want to take out the W-Item glitch though, 99 megalixers makes things wayyyy too easy.
Plus Vincents Death Warrant, and Cait Sith's Limit Break Death, too many cheap alternatives.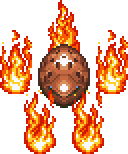 9. son of sun (chrono trigger)
This will be a fairly gimmicky fight, you'll only want to attack the flames surrounding the Son of Sun and hope you hit the right one, since it will counter-attack with Flare if you try to hit the center. The individual flames will also counter-attack with fire if you hit the "wrong" one. It's advised that you equip the Red Mail to absorb fire, as many Ruby Armors as you bought, the Red Vest, and the Taban suit if you have Lucca and picked it up from Taban. If you hit the right flame, it will do damage to the center sphere, and keep attacking it until it shuffles, then try for another one. After you hit the correct flame enough times, the Son of Sun will lose its fire and turn into a moon stone. If you have fire resistant equipment this battle should be easy enough.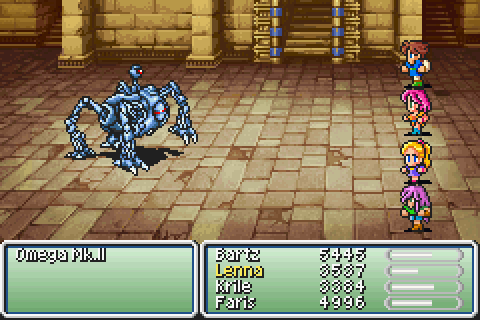 8. Omega MK-II(final fantasy 5 advance)
this version of omega is only in the GBA version of final fantasy 5 and it is very harder than the original.I say that because  at the start  of the battle, he will use barrier change(which is now known as shift change) to change its weakness so using magic straight forward is useless because it has auto reflect. another annoying attack other than wave cannon it does is "circle". that will not only kill your character but it will remove them from the battle. it took me about 10 minutes to defeat him with the rapid fire/dual-wield combo, but the dragon kiss mix will work if you have the mix command. once he is defeated, he will drop the force shield so get ready for a battle
7.Sephiroth(kingdom hearts 2)
if you have played kingdom hearts 2 and went against sephiroth and kept loosing, then i was at the same spot until last week( 8/2/2012). when i finally beat him, i felt so relieved. even at level 99 you will still loose the battle depending on the equipment you are using. the first move he will always use will be flash(which was renamed oblivion in dissidia final fantasy), which means he will dash towards you with an slash from his sword.Also he is very fast and has other spells like meteor,stigma and shadow flare. his most dangerous attack is heartless angel which will reduce your hp to the 1 digit. i have spent years off and on trying to beat him and when i did,he dropped the  3rd strongest sword in the game which is the "one winged angel". ign and other video game websites voted this battle as the hardest in the kingdom hearts series.
6.feral chaos(dissidia 012 final fantasy)
this is a fighting game with rpg elements so it counts. anyways, if you have played the 3rd part of the story up until the end, then you are going to have a brutal battle. its your 5 men vs a level 130(yes 130,no joke) feral chaos.Feral Chaos fights very much like his original counterpart: his melee Bravery combos are fast and difficult to avoid. He is equipped with the attacks Vicious, Erupt and Spew for Ground Bravery Attacks, and Destroy, Splinter and Raid for Midair Bravery Attacks. He has access to all his HP attacks. Feral Chaos mostly only uses Spew and Splinter from range, and Erupt or Raid when the player is directly above or below him. Feral Chaos most frequently uses Destroy to attack, and may use it several times in succession. He frequently Wall Rushes the player with either Destroy or Vicious, then follows up with Deus Iratus or Ventus Ire.The player should dodge as soon as possible to avoid being drawn into this combo. Feral Chaos will similarly call his Garland Assist to Wall Rush the player, then combo it with Deus Iratus or Ventus Ire. Because the player's EX and Assist Gauges will be depleted if they are hit with an HP attack, the player may as well use EX Revenge or Assist Change to break Chaos's HP attacks if they connect to avoid damage, as they will lose their EX/Assist charge either way. Fortunately, all of Feral Chaos's HP attacks have considerable end lag, making it the optimal time to counterattack. The player can also block Destroy to stagger him, but this is risky since he may follow up Destroy with Deus Iratus or Ventus Ire instead of another Destroy.Also,Feral Chaos' Shinryu Verus summon, like the original Shinryu, can be summoned multiple times in battle. It has four effects, all of which activate after a 20 second timer: the player and Feral Chaos swap Bravery, the player's Bravery falls to 0, the player's Bravery is locked, and Feral Chaos' Bravery is tripled. Because they have 20 seconds warning to these effects, the player has a chance to plan for them.In battle, the 99.9x booster will all but ensure Iai Strike will activate, instantly doing 9999 Bravery damage. The player must then use an HP attack that inflicts Wall Rush. The damage will read "9999 + 9999", but due to the Sniper Eye accessory and the booster level the Wall Rush damage will actually exceed the damage limit to do far more than ten thousand damage. Then, Exp to Bravery will instantly restore the player's Bravery to many thousands of points again. The player repeats this strategy until Feral Chaos is defeated.also to note, his HP is over 130,000 so be prepared.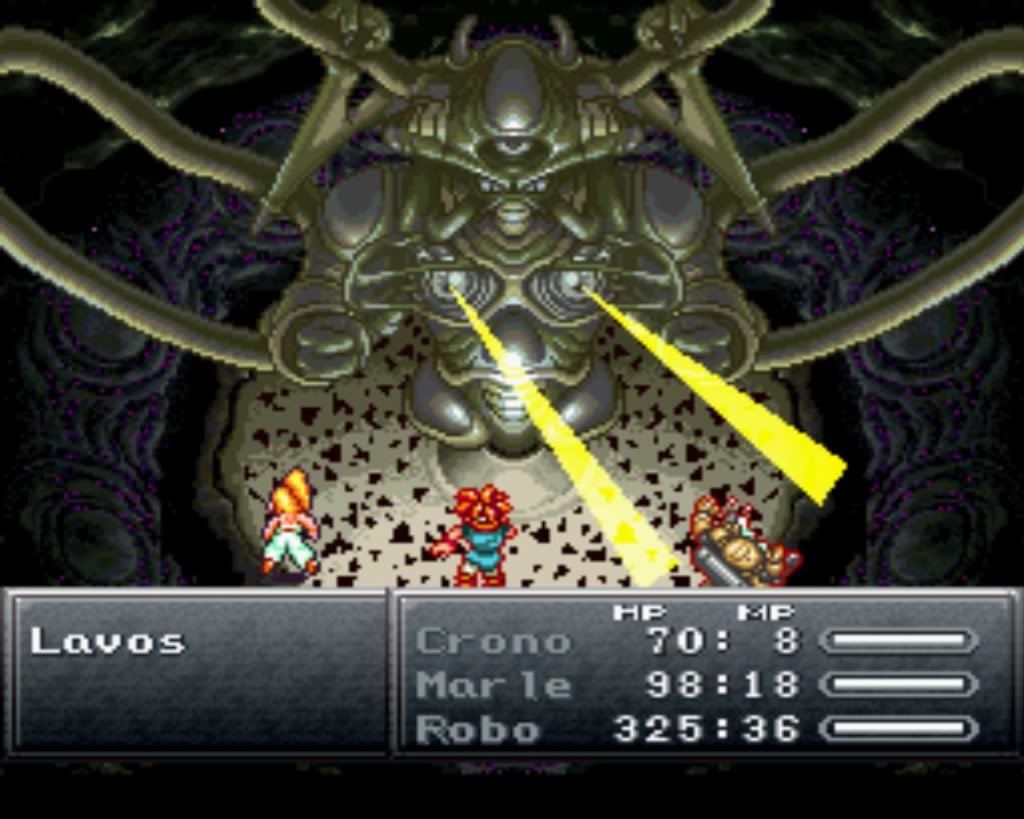 5. Lavos(chrono trigger final battle)
This battle is very complex, so you have to understand your enemy before attempting to kill it. It works like this: there are three bits, but the middle bit looks like a humanoid. This should make you believe that he's the main target, but he isn't. In fact, it's the right bit that you need to focus on destroying. Once you take it out, you defeat Lavos. The only problem here is that the right bit's physical and magic defense is maxed at the start of the fight. Also, the left bit constantly heals, while absorbing magic attacks (however it can't withstand more than a few physical attacks).
A suggested minimum level for this fight is 45. With a lot of practice, it's not hard to solo Lavos with any character at level 55+.
When one bit goes down, the right bit will shortly lower its defense to charge up "Active Life". This move completely revives all destroyed bits. After that, the right bit's defense will soon return to maximum, so you have to repeat the process. Sound simple enough? Well, it would be if it wasn't for the MIDDLE bit. This main body likes to warp in time a lot, and each time it does it acquires a devastating new attack. These include the most powerful magic and physical attacks in the game, which can kill your entire full-HP party in one hit if you're unlucky.
In spite of that, this can be an easy battle if you know what to do. Start with the bit on the left. Crono's Confuse, Frog's Leap Slash, Robo's Uzzi Punch, or Ayla's Triple Kick will take it out (or a combination of two). Don't even worry about the Middle Bit unless you know it's about to unleash an "Ultimate" attack (in which case you'll want to prepare healing). The bit on the right is what you need to destroy. Use all of your most powerful attack once it lowers its defense. One thing to notice is that techniques that are amplified by low HP, such as Frog Squash and Dino Tail, will hit all bits for a lot of damage. Just after reviving a character, such as when he/she has 50 HP, you can deal out about 2000 physical damage.
Lavos can cough up some brutal attacks (both magic and physical), so make sure you have someone who can heal well, or have plenty of MegaElixirs handy in your inventory. Eventually the destroyed bits will be restored. The left bit can heal the middle bit, so destroy it and go back to the "Active Life" bit. Once you've destroyed the bit, you've beaten the game. Now sit back and enjoy the ending!!
4.safer Sephiroth(final fantasy 7)
i recommend that you do this battle with your party up to at least level 70 because his attacks will KO you.but whoever cheated to win this battle, well you better do it again..his HP depends on what have you done on the battle before this one..pretty much without meeting the requirements, his HP will be around 230,000.anyways, he has powerful attacks such as havoc wing,shadow flare, and pale horse.his well most known attack is supernova(i learned the planets that way when i was a kid lol) which has a long animation that shows the other planets that the meteor destroyed including the sun.when you do beat him, you will get one final battle between himself and cloud which is arguably the best final encounter scene in video game history(well to me the scene with big boss and the boss from metal gear solid 3 was the best haha).And this battle was memorable for the one winged angel theme in the background
3.neo shinryu(final fantasy 5 advance)
along with omega MK-II,this version of shinryu is on the advance version of final fantasy 5.neo shinryu starts the battle with mighty guard but if you dispel it, that will be a huge problem,it has attacks such as tidal wave,malestorm,doom, and many more and all are over 7000 damage.Neo Shinryu also has two hidden targets, responsible for his so-called "high miss rate"(which means that the attack shows but the damage wont display,therefore pretty much the attack just miss). These absorb multitarget attacks as well as Rapid Fire, and cannot be killed. That means the party should use single target attacks.A cheap method to beating Neo Shinryu(which i found on youtube) is to have a party of Master Dragoons Dual Wielding Dragon Lances, and have everyone Jump constantly. The dragon should go down in 4 jumps if they all hit. An alternative is to use the Apollo's Harp, which will do 9,999 to Neo Shinryu if it successfully hits.
2.Goddess(final fantasy 6)
final fantasy 6 is my first final fantasy i have ever played and i have to say, the battle against the 3rd warring triad statue goddess is very tough, she has the lowest hp out of the other 2,but she is no joke at all..she will counter any regular attack with overture which forces the target to take all physical damage for the Goddess. Also She uses Thundaga, Thundara, Flash Rain and Quasar, a rare blue magic spell that does non-elemental damage to the party.when she is damaged in a total of 8 times, she will use a very dangerous spell called cloudy heaven. that will give your party a 20 sec timer above their head(which cannot be removed under any circumstances).When the number reaches "0"  or if the target dies before then,the targets will become zombie and the effect will last until the end of the battle. the only way to counter this is if you equip your party with a safety bit because cloudy heaven is treated as an instant death rather than a status attack. she was a pain in the ass but yumalisca from final fantasy 10 is far worse
1.Ultimecia(final fantasy 8 final battle)
i have chosen this one because i broken 2 controllers trying to beat her and my parents got pretty mad at me for that, anyways she is the witch that controls time and the final battle will make you want to hate going against her in the first place.Ultimecia can cast Flare, Holy, Meteor, and Ultima, Dispel any positive statuses the party cast upon themselves, instantly kill GFs, remove an entire spellstock from any character's inventory (even if it is junctioned to a stat), and reduce the entire team's HP to 1 with her Hell's Judgement spell. Once she reveals her lower half, she draws Apocalypse from it and begins to cast it upon the party. Apocalypse is a spell even more powerful than Ultima, and it can cause damage in the range of 8,000 HP or higher. If the party is not protected by Shell or invincibility, or have HP levels at 9,000 or above, the battle could end in an instant when Apocalypse is cast.When Ultimecia's lower half is revealed, she will only use Hell's Judgement, Destroy Stocked Magic, Absorbed Into Time," Draw" Apocalypse,Shockwave pulse, and Apocalypse. She will often cast Draw Apocalypse after using Hell's Judgement. During this time healing the entire party or use holy war, because she may cast Apocalypse instantly after drawing it, which could end the fight quickly.Also if one of your party members are dead and you do not revive them in time, they will be removed from the battle for good.the best way to beat her is use your strongest limit breaks. from squall's rezokuken-lionheart. to irvine pulse ammo shot limit break..just go all out after you have max out your invertory because if you do not have enough magic/items, then you are pretty messed up for this battle.
send me some emails for your thoughts @ juliancannon70@yahoo.com
.