So lets build a 16 Meter tall Optimus Prime out of snow!
From Gunjap.net
Optimus Prime Made Into Life-Size Snow Sculpture Bust: 16 meter!
The Japanese toy maker Takara Tomy revealed this week that a life-size snow sculpture of The Transformers franchise character Optimus Prime will appear at this year's Asahikawa Winter Festival.
Artists are sculpting the giant robot from a 16-meter (about 53-foot) snow mound. Construction crews began piling snow on January 6, started work on the character's head on January 10, and raised trusses to continue sculpting Optimus last Thursday.
The 53rd annual Asahikawa Winter Festival will take place in Asahikawa, Hokkaido Prefecture from February 8 to 12.
About the Asahikawa winter festival
One of the most famous festivals in winter in Japan, the Asahikawa Winter Festival is certainly worth taking a look at if you happen to be in Asahikawa at the start of February.
For all intents and purposes the festival is an eye pleasing mix of light, ice and snow with visitors able to see fireworks, laser shows, ice sculptures, a massive snow stage with music and dance acts, as well as having the opportunity to sample some of the local food, and drink some very cold beer.
The festival's activities are centered in Tokiwa park where you will find a large number of ice sculptures, lights, displays, laser shows, and food and drink stalls. From here it's a short walk through the park to the river bank where you will find the massive snow stage. More food and drink here. Next to the main stage is a huge ice slide to keep the kids (and the kids at heart) entertained for hours. This is also a prime location to watch the fireworks which are fired over the river.
The International Ice Sculpture Competition takes place along the main shopping street Kaimono Koen. Do yourself a favour and walk by at night when the sculptures are lit-up and looking their best.
So there you have it, 5 days of snow, ice, light , lasers, music food and drink. Considering it costs you nothing to get involved, what better way to enjoy yourself during the cold Asahikawa evenings.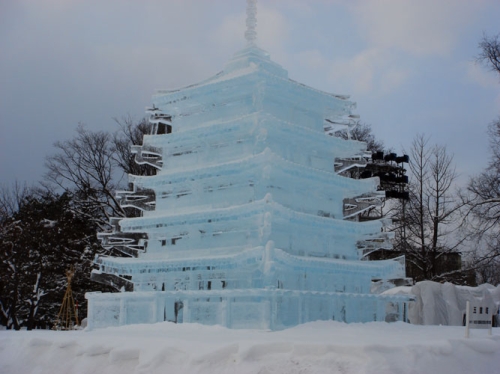 The Asahikawa Winter Festival began in 1947 and was known as the "Iyomante" (Bear festival in Ainu). It's primary purpose was to allow people to find some way to enjoy the cold and snow during the coldest month of the long Hokkaido winter. The name changed to the Asahikawa Winter festival in 1960 and since then, many activities have been added to make the Asahikawa Winter Festival one of the most well known winter festivals in Japan. Growing in stature year by year, this is definitely a great event to be involved in if visiting Asahikawa in early February.